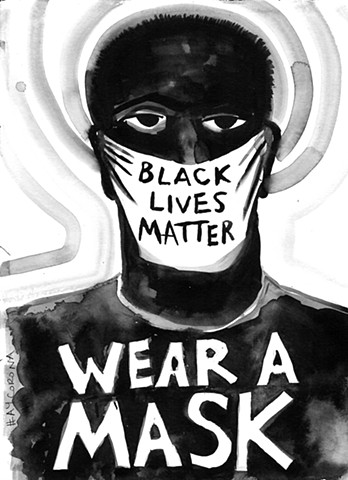 I am an artist in Chicago, IL. I am also the administrator of the Creative Chicago Reuse Exchange (CCRx), a nonprofit that fosters creativity and environmental stewardship by reimagining and redistributing surplus.
I recently made a series of posters that connect Black Lives Matter and Coronavirus Reminders. They are meant to be respectful reminders that we all need to wear masks, social distance and be careful -- we need to take care of each other.
Anyone is welcome to post and/or distribute these posters.
Just click the links above (BLM1, 2 and 3) to download them as pdf files and print them on regular paper. They are licensed Creative Commons, so you can use them anyway you'd like except for commercial purposes -- don't sell them or use their likeness to sell anything!
Here is a link to "How to Wheatpaste" These posters look great on lightpoles, powerboxes and other street furniture. Be careful, though. Don't paste them on private property without permission. Don't wreck anything nice. Go with a friend, wear masks and stay 6 feet apart!
Contact me at koenen@gmail.com